The big day was here! The Bandalino Tournament began at the crack of dawn, as we are on time and ready to go after hearing the rules and conditions of play. Continue Reading →
Day 7:
Focused on rest, relaxation, and recovery as we got ready for the tournament on Saturday, we stayed in for an early technical meeting after breakfast. Some parents traveled to Verona, others went to the APPI Mall to get souvenirs, gifts and supplies as laundry was returned.
Six clubs arrived at the hillside Complex for a 4:30pm tournament, comprised of two zones of three clubs each playing twice for 25 minutes. Everyone played in both games as a good contest ensued across the board. Clubs like Liverpool, Bardolino, Helsinki, Debrichen Hungary, Bromma, and of course, HVFC. Cold rain brought a successful afternoon for all to an end, to meet, greet and play the games.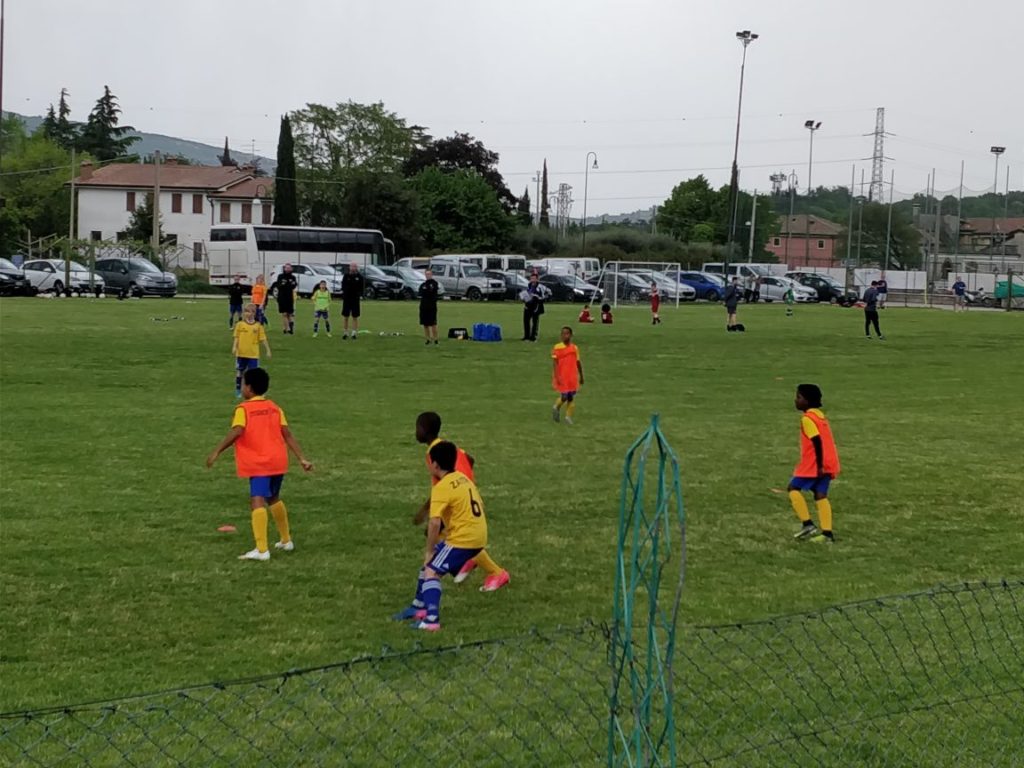 A technical meeting was held at the luxurious Bardolino Hotel, where all 24 clubs converged for the press launch, rules, and presentation packages. The tournament cup was on display and the community hotel training school charity was awarded and recognized by the organizers.
The boys went to bed early as the tournament kicks off at 9am when we are scheduled to play on field one against Bayern Munich.
Last night we had mixed fortunes with the availability of buses and a driver, so we had to cancel both our practice match and the historic tour of Verona. Continue Reading →
A more-than-full day of double sessions in training was enjoyed yesterday, plus watching the Champions League game where Real Madrid won over Bayern Munich late into the night at 11pm, meant the little guys were all worn out. A few overslept past the breakfast meeting wake up call to be awoken by their teammates.
5 adults took off at 7am, bound for a tour in Rome to return later in the night. As we know, our last set of supporters, including a player and family members, departed Jamaica and England respectively today to swell our numbers to 41.
At breakfast, everyone was behaved as expected. There was a light drizzle outside, which meant cooler conditions inside each room. Rest was planned for this morning, and the 10am technical meeting reviewed the Real Madrid game victory.
Parents were free to schedule alternative activities as kids relaxed through lunch, ahead of 3:30pm training up the hill. After the afternoon session completed, we descended the hillside to enjoy our 7pm dinner.
We played a team guessing game in the lobby to predict who will win and what would be the exact score in the UEFA Champions League semifinal return match between Roma hosting Liverpool FC, in Rome, Italy. All the squad members registered there preferred scoreline with Mummy Nadria in writing as the game began at a brisk pace. Like last night, an early goal kick-started the contest as Liverpool's Mane notched one in in the fifth minute. Two more first half goals were converted to really warm up the proceedings, as LFC led 2-1 at halftime. The jubilant squad were more than satisfied as Roma equalised early in the second half, but most players were losing out with their guesses. Nainggolan's 86th minute Roma stunner virtually ended the contest as all guesses were deemed null and void. The boys argued amongst themselves while rejoicing in the Liverpool victory. Still, a later penalty was awarded in the 90th plus 3 minutes to be slammed home; Roma 4-2, but not enough to force extra time as it ended in favour of Liverpool 7-6.
Game concluded, bedtime called. Tomorrow is another day.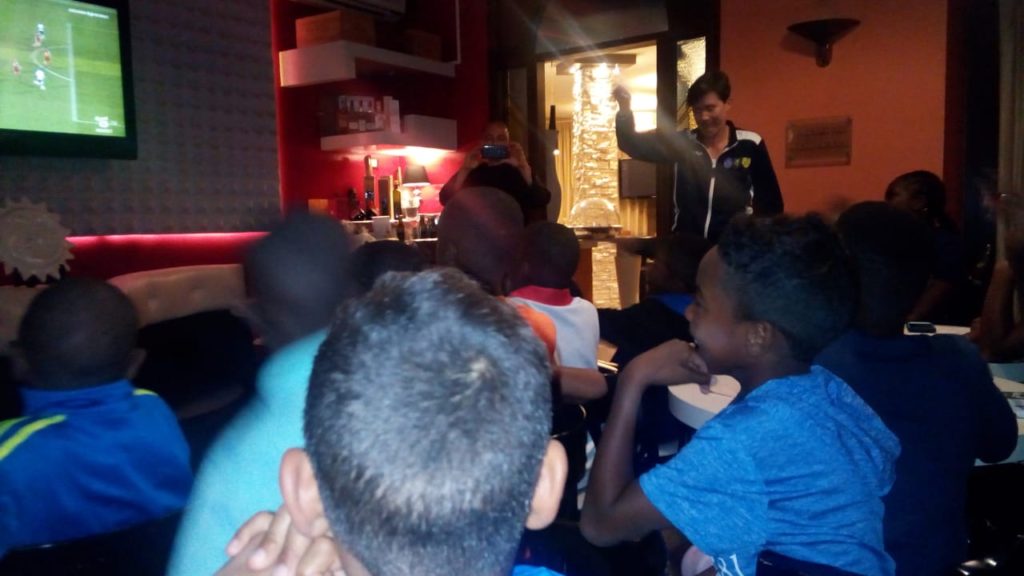 4 adults were the early risers who made arrangements from the night before to travel 4 hours by train to the waterway town of ancient Venice. Continue Reading →
Monday and Tuesday are two public holidays here, so limited commercial activities and a lot more leisurely emphasis is practised. Continue Reading →
Most of the group rested well and were up for a team meeting and breakfast at 8am in the dining room. At 10am, we were scheduled to depart for the visit to the town of Bardolino, about 5km away, where the tournament is to be played. Continue Reading →
We were well supported by family and friends as they gathered inside the airport lobby to see of the group of 18 youngsters and 19 adults depart for Italy. An additional parent and player will arrive on Wednesday. Continue Reading →
Harbour View Football Club's Under-10 programme yesterday received a significant boost, as they gear up to take part in the Bandolino Under-10 Tournament in Italy later this month.
The dynamic duo of Barita Investments Limited and Locker Room Sports combined to provide a sponsorship package valued at approximately $1.2 million, to cover the cost for the team's travel, training gear and match gear.
During the handover ceremony at the club's East Kingston base yesterday, Barita Investments presented a symbolic cheque valued at $775,000, while Locker Room Sports covered the additional cost in apparel.
Clyde Jureidini, general manager of Harbour View Football Club, welcomed the contribution of both sponsors.
"It is a big boost for us; both Barita and Locker Room covered the sponsorship of the complete package inclusive of footwear, jersey, shorts, socks, sweatsuits and bags. So we are grateful to both Barita and Locker Room for their contribution.
"Barita has been with the 12-year-old group for the last eight or nine years and so we appreciate this added support. And Locker Room has been a friend of the club for many years and wanted to participate with the junior level with the international tournament for the youngsters and their parents," Jureidini told the Jamaica Observer shortly after the handover.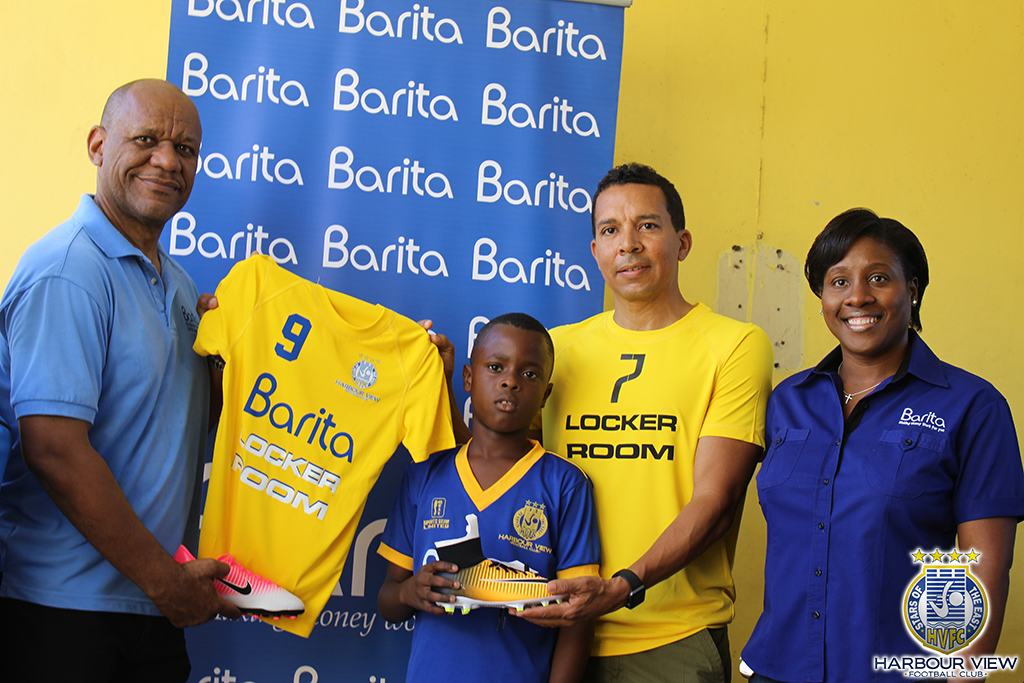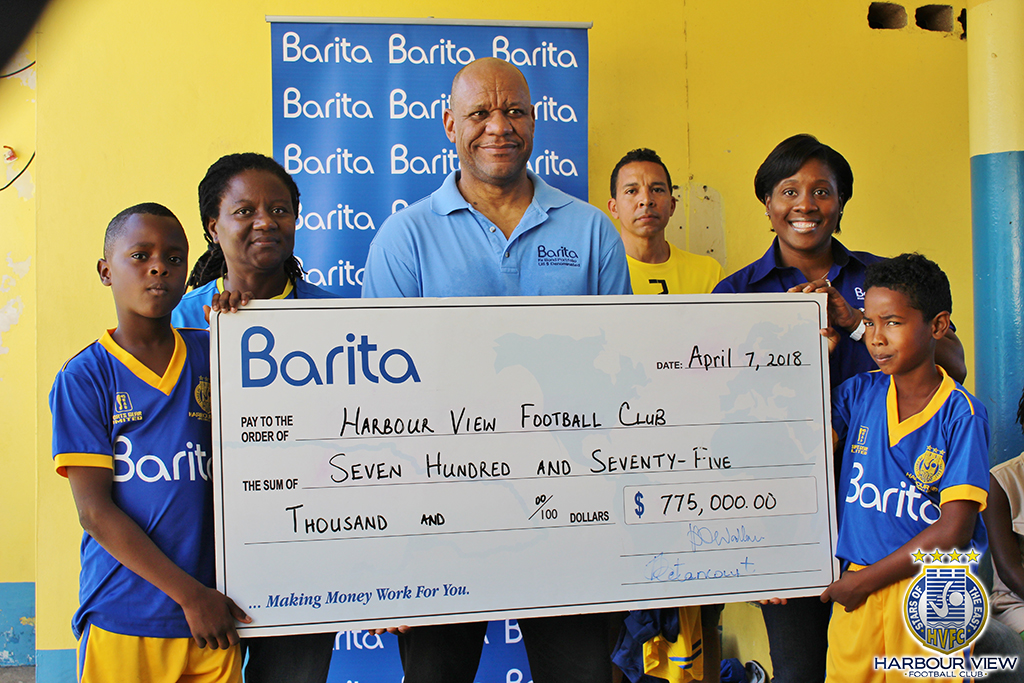 The club recently approved the move for it's Under-10 team to participate in the Bandolino tournament in Italy. They are scheduled to depart the island on April 27 and return on May 7.
"The focus on the whole thing that we agreed on from day one is for the exposure, and for the youngsters to have a fun-loving experience in a football environment in Europe. It is not any pressure on the parents or moreso on the kids to perform at any extraordinary high standard; we expect them to do as best as they can do and we think they will do well," Jureidini noted.
"We don't know the competition, we don't know how they have participated in a tournament structure, because at this age group they are just getting exposed to it — and the KSAFA Under-10 competition will give some of them a feel for it in the next two weeks.
"So we are really just exposing them so that they can enjoy a lifetime building of personality experience rather than expecting a hype performance for them at this level," he added.
Harbour View Football Club is the only club from Jamaica, the Caribbean and outside of Europe to accept the invitation to participate in the annual tournament, which will feature 24 clubs including the likes of Manchester United, Juventus, Real Madrid, Bayern Munich and Roma.
"Those clubs are big names of course but, like I said, no big expectations, so we will take it as it comes and it is a part of the experience overall, so we don't want them to get tense or overly agitated or overly expectant.
"One way or the other we expect them to compete at their level. Part of the exposure is that when we get there we will have three practice games with Italian clubs before the tournament, so we will see a little bit more here or there, because the focus is more on development," Jureidini stressed.
Finally, the veteran administrator sent out an invitation for additional sponsorship.
"Not all is in place yet, we are still finalising some of the Schengen visas, about three or four outstanding. We still have appointments this week for about six people for US visas and about three or four of the youngsters and parents trying to put together to generate enough finances to cover airfare and accommodation.
"So we are working towards everything and if there is any sponsor or interested persons who want to contribute, we are more than grateful to have the assistance," he ended.
Source: The Jamaica Observer