Premier League: 
An outstanding game of football was climaxed by a young aspiring player Kemar Petrekin's strike after a 56th minute robbery from a fumbling defender to raced forward seven (7) yards just inside the penalty area to the left. He squared up his more experienced opposition goalkeeper, Robbie Scott before curling it accurately around him and into the far corner for the early lead that extended to the fulltime whistle on ninety minutes.
He ran forty (40) yards to the bench as all his team-mates and coaches embraced him he glowed, warmed by the occasion of scoring his first Premier League goal. The twenty one year old player who has waited eagerly for the last two years to emerge at this level after dominating the Under 21 League like no other. He was voted Most Valuable Player twice in consecutive seasons in addition to being the leading goalscorer, both times.
Highly combative, entertaining and gripping were but a few of the words football fans echoed as they departed the stadium with a broad smile on their faces slapping the palms of their hands with the ticket stubbs that they missed out on winning the four spanking new Goodyear Eagle NCT5 Tyres on offer as Gate Prizes. Defenders Jermaine Taylor of Harbour View and Dwight Heron of Tivoli Gardens beamed after accepting their game prizes as team Most Valuable Players by the respective Technical Teams.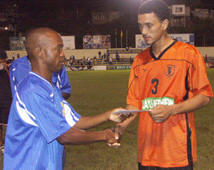 The more experienced, star studded squad of Tivoli Gardens contrasted with the youthful potential of hosts Harbour View who were determined not to be over-shadowed or frightened by the occasion being covered Live on Radio92FM. The momentum hit high gear early as Ronnie Amaguana on the right flank motored forward regularly to cross after dismissing more than a few illustrious names, while Ricardo White balanced his left-sided attack with accurate squares on of which fast moving captain Lovel Palmer just missed as he tried to execute a difficult volley attempt goalwards. An avalanche of thrusts forward by both teams were ably handled by both defensive units until Amaguana's shot from distance wasn't handle cleanly then Loxely Thomas hurried an angled shot skyward to ease the pressure on Tivoli. Hot-to-handle striker Christopher Nicholas was restrained by Harbour View's Jermaine Taylor while his Tivoli namesake was the first casualty of an early substitution as the second half begun, new national invitee Oraine Simpson added spark to the already heated proceeding as World 100 Metre Record Holder Asafa Powell may have questioned his own speed as he looked on from the Grandstand alongside fellow athletes Usian Bolt and Jermaine Mason and Jermaine Gonzales.
Gutsy ground battles, slick passing and dashes down the wings were all halted somewhere around the edge of the penalty box as the tried and proven wit, skill and craft of Nicholas, paired with International midfielder Jermaine Johnson and then Roland Dean couldn't unpry the tight Harbour View defence with William Richards and Donald Stewart leading the organisation before Oniel Smith replaced him late to bolster the team tactic to closeout the options late in the game. Tivoli ventured forward more often in search of the equaliser leaving Kevin King and substitutes Marcelino Blackburn and Rafiek Thomas to counter-attack through dribbles but on three occasion they over-dribbled while failing to get a pass or a shot off.
Rare penetrative attacks from both teams really threatened Ryan Thompson or Edsel Scott in goal but Thompson's two saves scrambled away by his defence kept them at bay to retain the 1-0 scoreline.
UNDER 21:
Harbour View 0 Tivoli 0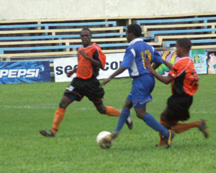 Harbour View remain sole leaders of the Premier League on 24 points.
On Wednesday, November 2, 2005 Harbour View hosts the Waterhouse FC at 3:30pm in a LIVE Televised game followed by the 6pm Under 21 contest.
Starting Lineup:
GK : Ryan Thompson,

Defence: Ronnie Amaguana, William Richards, Ricardo White, Jermaine Taylor,

Midfield: Loxely Thomas, Lovel Palmer, Richard Edwards, Donald Stewart,

Forwards: Kemar Petrekin, Kevin King.
Substitutes:
Marcelino Blackburn, Rafiek Thomas, Oniel Smith.

Not used: Leon Strickland, Leighton Murray, Nicholas Dodd.
Other League Results: (Home teams named first)
Waterhouse 0 Boys Town 0

Portmore United 2 Arnett Gardens 2

Seba 1 Reno 1

Village United 2 Constant Spring 1

Rivoli 2 Wadadah 1