Since the days when the eager citizens of Harbour View grouped together at the Harbour View Primary School halls to meet and greet each other all around The love of football mostly then at the Minor League Under 16 years level before taking the conscious decision to enter the Major League in September 1974 after electing officers in the newly formed Harbour View Football Club previously named after the community only – Harbour View.
The View bounces back to winning wayswith a 2-1 victory over Invaders F.C.
International Reggae Boy Fabian Taylor opened his goal scoring account today with a double impact to lead title challengers Harbour View F.C. to their first win of the season over new entrant Invaders of Trelawny at the Elleston Wakeland Centre before a fair- sized crowd. The welcoming home for Clifton Waugh, Jermaine Hue and Leon Gordon was almost cancelled out by injuries to Robert Scarlett and William Richards suffered in training on Thursday , adding to Damion Stewart's broken nose exactly a week before.
An intricate build up was delayed by a timely tackle that was diverted to Sean Fraser on the left and his one time pass was sweetly controlled by Taylor as he rounded a defender and the goalkeeper before composing himself and slotting home past the last defender on the line in minute twenty one.
Invaders struck back nine minutes later when the experienced Winston Anglin's quickly taken freekick at the top of the area found the unmarked Greg Taylor who scored from eight yards. As a fighting new unit of young and senior players, Harbour View summoned up just enough courage and class to steal a last minute (93rd) victory when their last gasp attack was converted by Fabian who celebrated the ball played to him by slamming home from close in.
ON WEDNESDAY 24TH SEPTEMBER – Harbour View travels to Waterhouse at 3:30pm in a Live Televised Game. There will be no
Under 21 games.
Harbour View Under 21 outclasses Invaders by 4 goals to nil.
Two goals by Kemar Petrekin and one each from Michley Wual and Jermaine Rowe were too much for the young Invaders as the KSAFA Under 20 Champions now reassembled found their groove and waltzed away convincing victors.
Harbour View reigns as U20 Champions!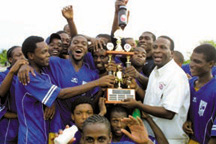 Once again coach Ludlow Bernard charges indicates they can step up to a higher level as the dominant U17 unit flexed their muscles at the KSAFA U20 competition for the third time as Champions following successes in 1998 and 1999 by defeating Waterhouse 2-1 at the Harbour View Stadium recently
Harbour View Triumphs as U13 Champs!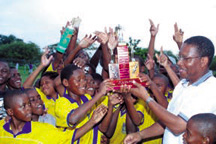 Saeed Robinson and Romario Campbell scored to lift the title of U13 Champions over KSAFA opponents Tivoli Gardens at the Barbican playfield. An enviable
record of 45 goals for and only one against in the semifinal against defending champions
Meadhaven, lead by Romario 'Rum Rum' Campbell with 14 goals and Paul Cunningham
with seven (7). The ecstatic players,parents, fans and the club congratulates coach Sydney
McFarlane on attaining his first trophy as a Harbour View coach who has graduated from
being a former midfield player.
INTERNATIONAL NEWS
Damani Ralph Shatters
MLS Rookie goalscorers Record…
With ten goals to his credit so far this year and another possible eleven
games to complete the roster, a new record has been posted by the Chicago Fire Rookie, erasing the 8 goal mark.
Special Reduced Prices of $200
Down from $300 only for
Harbour View Residents..
Lower prices will be available to Harbour View
Residents on Saturday afternoons up to 8pm at
our CashPot Window, remember Seniors over 55 years-FREE
and Children Under 12 years $100!
Robert Scarlett returns from Israels' Maccabi Tel Aviv
After a day and a half of travelling Robert arrived in Israel to start a 7 day trial at the
30,000 supporter club. He trained daily and played well in two games winning the first
by 4-0 and the second an official Toto Cup tie ended in a 1-1 scoreline. He awaits the
clubs' final decision.