Our early morning return from FC Barcelona's victory only served notice that the boys had to learn how to balance lessons with high-level performances. An earlier breakfast at 7:15am gave way to a technical meeting in order to plan both game day squads, with one at 11am and another at 7:30pm at the Complex in Salou.
Game 1: Lank FC vs Poabla De Mafumet
Poabla De Mafumet is a Spanish Division 4 (really 5) Senior Men's team who were set totake on Lank's trial team of U19 players, with 3 exceptions aged 21-24. With that said, it was really men against boys, as the more physical prowess of the visitors was abundantly clear from the get-go, much to most viewers' surprise. Maturity took over and they pushed, overpowered and drilled the youngsters around the pitch to lead 1-0 at halftime.
Coaches made 3 substitutions at halftime to create a better balance, cohesion and quality across the pitch as the Lank trialists gave their full effort to compete. They equalized as central defender, Dante, fought hardest for a loose ball in the penalty area to make a teammate scramble home with a 1-1 temporary satisfaction.
Power easily reasserted itself to restore advantage soon thereafter, leading 2-1 as centre forward, Shadane Lopez, and leftback, Trevaune McKain, both made impacts. Lopez went forward with skill, but not enough to score a goal it ended as is 2-1 as 4 scouts watched.
Lunch, Conference Room discussions with all the family, players, coaches, managers and friends were called to have a frank talk about the selection process over the next 2 days. Individually recorded interviews of players were done by the videographer and a presenter.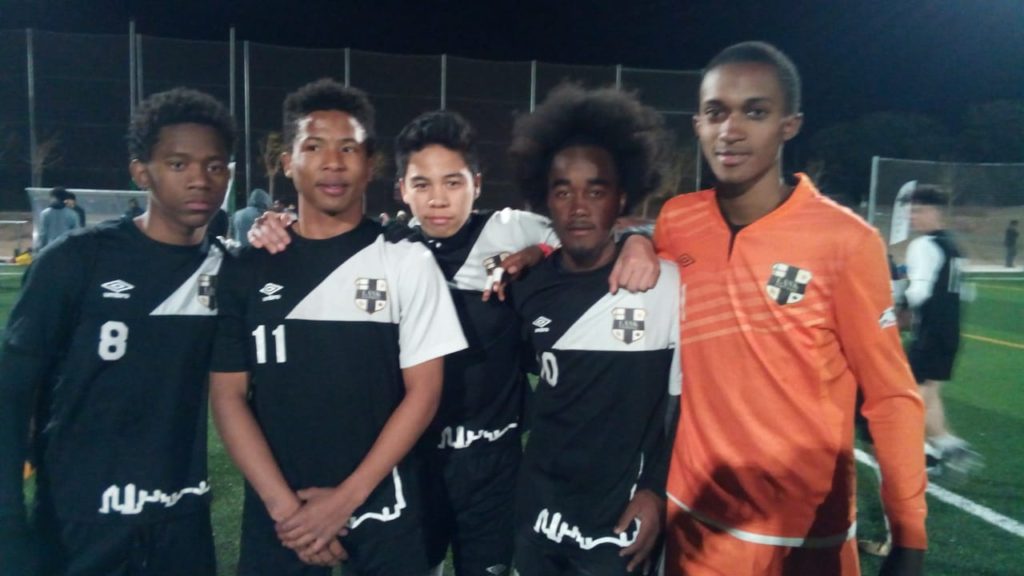 Game 2: Lank FC vs Sabre's Creus Juvenil A
Lank U19 trialists took on a Spanish Academy U19 squad called Sabre's Creus Juvenil A as a few new scouts arrived for the game. Much later in the cold of night (7:30-9:30) with a high chilly wind factor, it remained 0-0 at the half. This encouraged most supporters to visit the Snack Shop and Cafe for warm beverages.
As both teams turned around, so did the goalscoring as starting Jamaican Goalkeeper Denzel Smith made good point-blank saves. He had a lesser chance as the diagonal pass exposed the defensive line as he advanced to be beaten 0-1. He is replaced in 3 keeper rotations after almost 65 minutes.
Trinidad and Tobago's star midfielder, Che-Bennie, came on at halftime to create opportunities. Oquassa Chong was now deployed in a lone striker's stance, as both of them combined to steal the game with 2 colourful combinations. The midfield maestro threaded a pass between the 2 central defenders, as Chong converted with confidence after outsprinting the opponents. With 90 minutes on the clock, Che-Bennie was fouled midway the half as he got between 2 players. His audacious chip to the space behind the wall was met by Oquassa, who controlled and smashed a left-footer from 12 yards wide that the visiting custodian could not hold as it slips from his grasp over the line. Victory was celebrated by all!