Final day at the tournament…
Awoken for the last time by the chipper of a few birds outside our hotel door and of course the lone rooster crowing in a nearby home. The balcony was decorated with colourful potted plants toward the vineyards of grapes and olive trees, the agricultural backbone of the area and the nation. Smiling at the contrast of not seeing a single "burglar bar" on the houses around, we strategized for the three games today and the closing ceremony.
The hallways were quieter this morning as we scheduled breakfast an hour later our wake up time as our first game was 10:25am.With breakfast at 8:15am, we changed to our alternative Royal Blue outfit and set the team goals to achieve our ideal level of participation. Voices were heard in the distant rooms, little feet pattered in the hallways, and we knew the expectations will rise once more.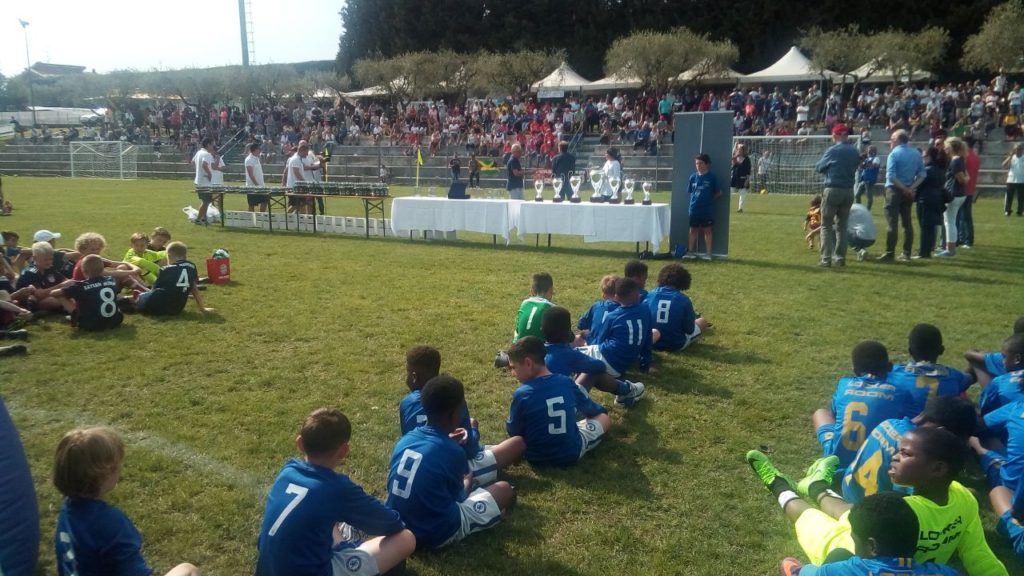 Verona FC vs HVFC
Zone 3 leaders Verona were first in attacking mode, to push us back into a defensive posture with infrequent counter-attacks that fizzled. Not surprisingly, we conceded the first goal after 6 minutes, then we initiated 3 attacking substitutes of Daneil Thomas, Giovanni Taylor and Zaire Douse. The offensive jolt worked instantly to avert the flow, pushed them back, and created multiple scoring opportunities as Daneil missed twice before he equalized 1-1 in minute 12.
Verona are a good unit, hence zone leaders, as they mimiced our 3 substitutions and shifted the balance as well to take the lead on 15 minutes, 1-2. We stayed with the pregame plan as both clubs traded offences, they missed and we missed.Undaunted, now battle-hardened, we played with more confidence and assurance through experience and understanding. We pressed forward to equalize once again when Daneil was released from a 4-man combination of Elijah, Zaire and Giovanni to set up the goalkeeper. He then slipped by him to register his second in the game, 2-2, to end 3 minutes later.
Rest, team pictures, and lunch took place at the charity nominated Institute, 400 metres away at 12:10pm.
Brescia FC vs HVFC
The draw for the next two games indicated we play against Brescia FC at 1:10pm. The team focus today was to rotate more of the players who have not played as often, to be starters or coming on first. We went down 1-0.
Bardo Juniors vs HVFC
We closed off the tournament against our hosts club of Bardolino, Bardo Juniors. This game was immediately after our previous match, and just before the primary World Cup games are showcased for the grand Finale at 4pm. The game ended 1-2 in favour of our hosts. Zaire Douse scored directly from a corner kick for our consolation.
We walked away with a number of keepsakes from the tournament, including individual participant trophies, certificate, a pennant, bottles of wine and olive oil, and the Fair Play Award! Well done young stars!