We traveled early on Monday morning from the club to the airport after all 20 players, managers and parents assembled to catch our flight on sponsors Cayman Airways through Montego Bay.
Smooth transition to Grand Cayman where we were met by the high-energy reception team of familiar faces with broad smiles. Lunch soon followed at the Mango Tree Restaurant, then a visit to our sponsors Grace Foods distribution centre to collect donations that accompanied us on the later flight over to Cayman Brac.
The four teams in our zone met at the airport, all dressed in differing shades of blue from Bahamas, Honduras and Cuba. Pleasantries were exchanged as the plane loaded for a 20-minute trip to the sister island. Joy greeted the party as committee members hurried forward to usher in the Zone C participants, with luggage offloaded to waiting buses.
Brac Caribbean opened its four apartment doors to us as one adult governed four youngsters in each fully-furnished spacious room. Dinner soon followed as the group settled in and got wired to the favoured internet connections to call home while getting relaxed. Dominoes, talk, and fighting large mosquitoes were the order of the night before bedtime at 10pm.
There was a 7:00am wake up call for a 7:30am pick up for light training at the stadium's artificial turf. The practice lasted for 45 minutes after an easy 10-minute drive to and from the venue. Some of our Cayman Brac connections showed support joining our training session, including our RSPL/U20 player Michael Martin, his brother Brian, Sgt. Ferguson (organiser), and Steve Smith, all pictured here with our Equipment Manager, Michael Jackson (2nd from left).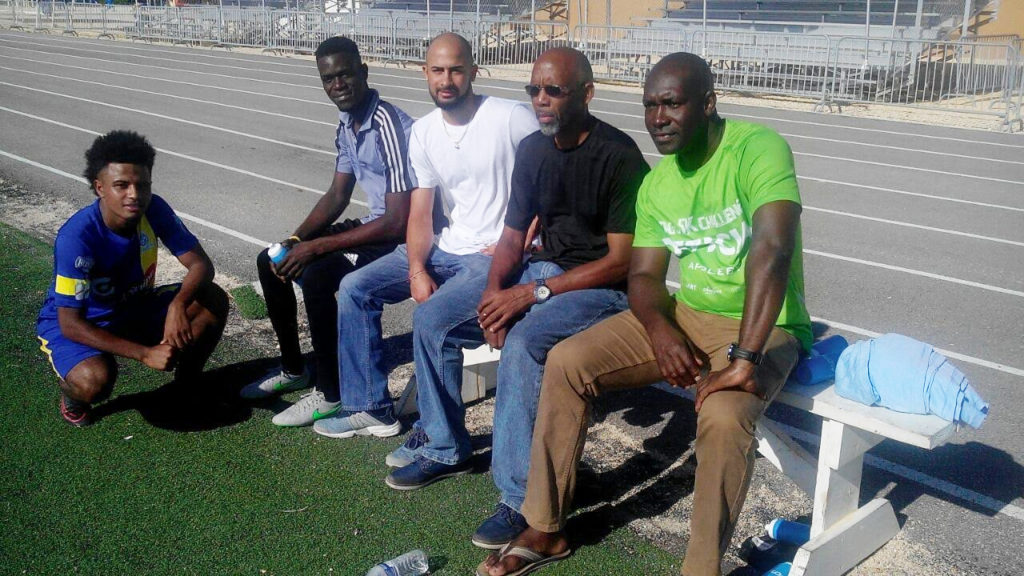 The competition starts tonight at 6:00pm, with Cuba versus Bahamas followed by HVFC entering the contest at 8:00pm against Honduras.