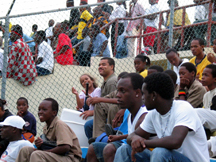 Christopher Harvey, Luton Shelton in Olympic Qualifiers versus Cuba. Our two youngsters parade their skills at the Tony Spaulding Complex, Sunday October 12th.

He registered his 11th goal against the Los Angeles Galaxy in a 2-0 win, in the 58th minute that now moves the record upward. To make his point more emphatic he has scored another goal to win the semifinals in the Lamar Hunt Cup. Happy hunting Damani.
Keith Kelly rights to be returned to Harbour View FC from French Paris St. Germain…
The long awaited decision of the JFF was handed down after research with the French and Belgium Football Associations revealed that Harbour View is the rightful owners of Keith Kelly and will persue all aspects of the matters outstanding with Paris St. Germain of France and Belgium Reac Mons as to all related compensation. Harbour View has agreed to loan the player to Arnett Gardens for this season.
HARBOUR VIEW DEFEATS PORTMORE UNITED BY 1-0 IN A KEENLY CONTESTED AFFAIR TO TAKEOVER SOLE LEADERSHIP OF THE PREMIER LEAGUE !
Striker Jomo Gordon notches his first as a substitute.
He toiled feverishly without reward last Sunday against Seba United at the Compound and left the field a bit dejected after not being able to join his four teammates on the score sheet. Not to be outdone he watched the game replay on television seeking answers to his many probing questions ever searching the deepest recesses of his goalscorers mind to come up with the right stuff.
As if like magic, his determination to follow his lead strikers' shot goalwards resulted in an easy tap in after 76 minutes. The uneven surface forced a competent goalkeeper in Shaun Sawyers to fumble a difficult drive from Fabian Taylor who had shaken off a rough tackle from his marker just outside the box to the right, he turned inside firing on the run with his lethal left foot into the neck of the custodian who had been clean all afternoon on a bumpy pitch.
Coach Lennie Hyde must feel hard done as both teams gave of their best physically under demanding conditions of the scorching sun. An uneven hard surface, a fierce pace for ninety minutes left international players on both sides obviously spent forces.
A tactical chess-game boggled the mind of spectators with see-saw defence, possession, attacks and counter-attacks blocked by good goalkeepers who displayed excellent positioning punctuated with fine ball-handling against the league leading finishers who between them racked up some 62 goals all toll last season. Reon Nelson record breaking 31, accompanied by the active partner in Andrew Morrison plus new acquisition and former record holder Oniel 'Chippy' McDonald (26) could not dent the powerful defence of Captain Damion 'Stewpeas' Stewart, Clifton Waugh, sweeper young National Under 23 representative Christopher 'Jamel' Harvey, 19 year old Lovell Palmer and the focussed Robert Scarlett with the experienced William 'Gary' Richards returning from injury for his first game of the season.
It could be easily mistaken for a caribbean international as stars of the islands glistened with Grenadian Anthony Modeste pulling the strings from deep midfield while wearing the Captains' armband with the authority while Jermaine Hue flickered on and off in spurts as Tactician Donovan Hayles new 3-5-2 formation though offbeat with the absence of 19 year old Conrad Hunt stuck to its guns as they worked hard to wrestle the game away from the reigning Premier League Champions finally deliver the deadly blow in the last quarter inflicting on them the first defeat on the year.
Rivoli United remains the only undefeated team in the competition after playing to a 2-2 draw away to Invaders in Trelawny.
In the Under 21 game Champions Portmore United won by 1-0.
THE LEAGUE BREAKS FOR INTERNATIONAL GAMES AGAINST WORLD CHAMPIONS BRASIL NEXT SUNDAY OCTOBER 12th IN LONDON PLUS OLYMPIC QUALIFIERS AGAINST CUBA IN JAMAICA, THE FIRST GAME IN CUBA ENDED 1-1.
HARBOUR VIEW PLAYS ARNETT GARDENS AT HARBOUR VIEW ON WEDNESDAY OCTOBER 15th.